Circular Economy in practice – Azerbaijan undergoes the validation of the industrial waste mapping report
16 october, 2022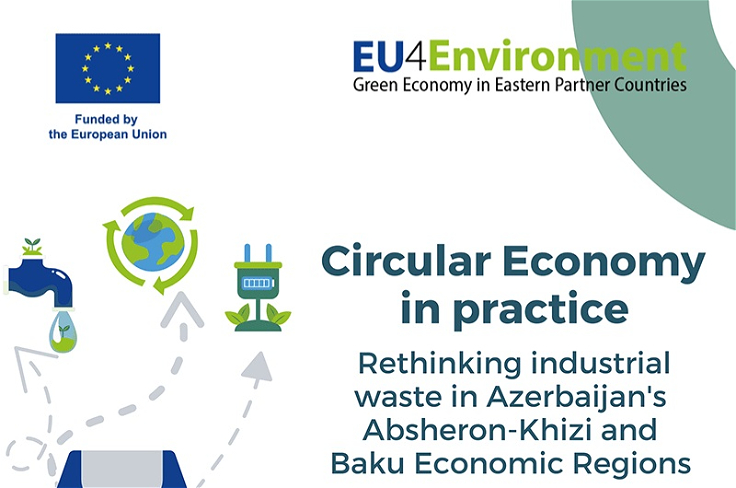 On 6 October 2022, the stakeholders involved in and potentially interested in Industrial Waste Mapping (IWM) in the Absheron-Khizi and Baku Economic Regions of Azerbaijan convened to consult, discuss, and validate the IWM report on the two regions.
The participant list consisted of industry representatives from the Absheron-Khizi and Baku Economic Regions, representatives of the Ministry of Economy and the Ministry of Ecology and Natural Resources of Azerbaijan, the EU Delegation, UNIDO, as well as professionals and experts interested in and working on the topic of industrial waste management. The online event was open to the general public and will be conducted in both English and Azerbaijani (with simultaneous interpretation).
Amongst some of its main objectives, the event fortified the principles and benefits of Circular Economy, which are central in the application of IWM, revealed the results from the mapping exercise and collected feedback from the involved stakeholders. It also fostered dialogue on how to optimise the IWM process to benefit other regions and countries wishing to undertake similar activities.
On top of that, the outputs of the consultation included a validated IWM Report for Absheron-Khizi and Baku Economic Regions. In particular, this report included suggestions on how the recommendations could be implemented to introduce Circular Economy practices for the businesses located there. The consultations provided recommendations on the implementation of the IWM methodology in other regions of Azerbaijan and other Eastern Partnership (EaP) countries.
Why is Industrial Waste Mapping important?
Waste is the fourth largest source sector of emissions, with most emissions coming from combusting fuels, agriculture, and industrial processes. In the European Union alone, more than 2 million tonnes of waste were generated in 2020. Preventing, tackling, and reusing waste is an effective means to change the linear model of production into a circular and sustainable one. This is because waste mapping looks at the collection, transport, treatment and disposal of waste, also taking into account means of monitoring and regulation. This leads to an efficient waste management system and creates an increased business value, for industries, consumers, and the environment alike. It also contributes to the sustainability of the industrial sectors and the promotion of economic opportunities.
Through industrial waste mapping, our systems could be transformed for the better by promoting Circular Economy practices that help retain the value of resources for longer, reduce the throwaway economy, and fight climate change and biodiversity loss.
Agenda (English| Azerbaijani)
Press Release