Greening the Industry – an EU4Environment campaign on using the potential of resource efficiency and green growth for manufacturing enterprises in the EU's Eastern Partner countries
05 september, 2022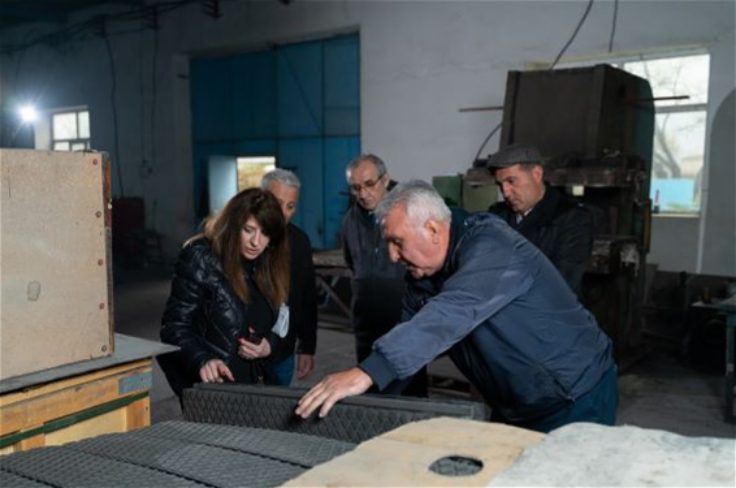 How does a product evolve from raw materials to a final good? What processes are used? And, can these processes be improved through preventive strategies so they do not generate waste and pollute the environment?
In 2022, UNIDO launched the "Greening the Industry" campaign in selected manufacturing enterprises from the EU's Eastern Partner (EaP) countries, under the regional programme funded by the European Union, the EU4Environment Action. The aim here is to give local manufacturers access to Resource Efficient and Cleaner Production (RECP) assessments to identify efficiency gaps, discuss the potential to introduce resource efficiency measures, and develop RECP action plans.
All in all, RECP entails a continuous application of preventive environmental strategies to processes, products, and services. It addresses the three sustainability dimensions both in individual enterprises and by creating synergies amongst them:
heightened economic performance through improved use of resources.
environmental protection by conserving resources and minimizing the impact on the natural environment
social enhancement by providing jobs and protecting the wellbeing of workers and local communities
This is a key approach for any manufacturing enterprise wishing to improve its production and become more resilient and competitive. RECP can be implemented from the very design of a product all the way to the assembling process, to packaging, and the disposal of waste. Manufacturing enterprises are an integral part of any country's economy, and a major provider of employment, materials and technology, and of course, goods. Hence, it is essential to understand the importance of investing in a viable design and optimum use of resources in order to create high-standard products without compromising on quality, depleting the Earth of its natural resources and negatively impacting people and the environment
For the application of the RECP methodology in Azerbaijan, 10 manufacturing Small and Medium-sized Enterprises (SMEs) have been selected as Demonstration Companies. In 2022, experienced RECP experts and RECP trainees performed structured visits and measurements at the production facilities focusing on the optimal use of resources. From the analysis, they consolidated tailored assessment reports with RECP action plans to help the enterprises implement the measures designed to increase productivity and reduce resource input and pollution from waste and emissions. Once the companies record the implementation results and document their achievements, they are promoted as RECP business cases (or success stories).
Demonstration Companies in Azerbaijan undergoing the RECP assessment