Baku based companies discover economic and environmental solutions for their business thanks to EU4Environment workshop
16 march, 2022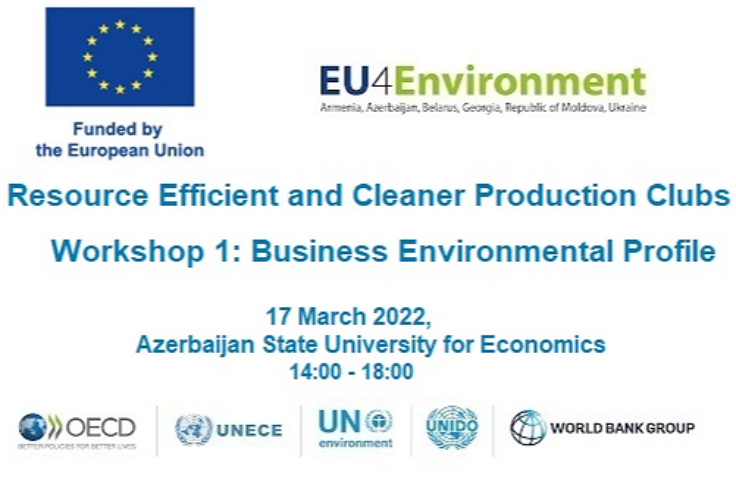 Under the European Union-funded EU4Environment Action, the United Nations Industrial Development Organization (UNIDO) is hosting a workshop on Business Environmental Solutions for Azerbaijani companies from Baku.
The workshop, which takes place on 17 March 2022 from 14:00 to 18:00, at the administrative building of the Azerbaijan State University of Economics (UNEC), will take interested companies, researchers, and environmental or energy specialists on the path towards Resource Efficiency and Cleaner Production (RECP).
Concretely, Baku-based enterprises will have the opportunity to accelerate their economic development and learn more how to strengthen their environmental security by applying the RECP methodology, developed by UNIDO.
This way, the workshop will support small and medium-sized enterprises (SMEs) to identify the most cost-effective economic and environmental solutions for their businesses and to discover the benefits and opportunities in becoming members of the RECP Clubs in Azerbaijan. The main idea behind an RECP Club is to bring together up to 10 SMEs from the same region and to develop an individualized RECP Action Plan through a coaching program over a period of approximately 4-6 months. In the end, the participating companies would have developed an understanding of their potential to save resources, energy, and materials, while preventing overspending, reducing emissions, and limiting their waste and pollution discharge into the environment.
The experience gained from this activity (energy saving and environmental protection), fully complies with the national commitments set out in the "Azerbaijan 2030 socio-economic development and green development plans" and will lead to the development of a clean environment, and increased resource productivity and environmental performance.
The workshop will gather around 30 persons, primarily company representatives (2 per company) dealing with production management, maintenance, quality control, environmental management, etc. at the RECP Club member companies as well as representatives of the host institution, the Centre for Sustainable Development and Green Economy. The companies' personnel will be acquainted with the UNIDO RECP self-assessment Methodology enabling them to identify the RECP measures in their own company. In Azerbaijan, two RECP Clubs are organized in Baku and Ganja. The workshop in Baku follows the first introduction session held on 13 December 2021 for the SMEs located in the Ganja region.
This activity is undertaken in the strategic partnership of UNIDO with the Ministry of Economy and the Ministry of Ecology and Natural Resources. The implementation support is provided by the National Implementation Partner - ACE Group Consultants.
The venue of the workshop is the administrative building of the Azerbaijan State University of Economics (UNEC), located at: 6, Istiglaliyyat Street, Baku. For more information, please see the Agenda and/or contact Mr. Ilkin Aliyev, RECP Club Facilitator at Ilkin_wto@yahoo.com